Safety
We focus on safety and accident prevention and have a strong safety culture. The health and safety of Suominen's employees is our key priority.
Safety is one of our key people-related targets, and our aim is to have zero lost-time accidents (LTA). Four LTAs occurred at Suominen sites in 2021 (1 in 2020) and six out of our eight sites were able to reach the zero LTA target in 2021. Even though the accident frequency rate (AFR) increased to 3.04 (0.80) in 2021, the accident severity rate decreased to 0.05 (0.14). There were no work-related fatal accidents among neither employees nor contractors at our sites. We keep records of all work-related accidents and near misses and identify their causes.
Safety monitoring is part of our daily activities, and in 2021 Suominen implemented a new safety software to manage all safety-related aspects on a single platform. The safety management systems are certified according to the ISO 45001 standard in 5 out of the 8 sites. Two of our sites are scheduled to be certified according to the ISO 45001 standard during 2022.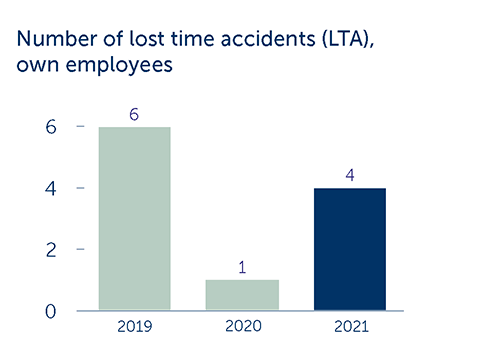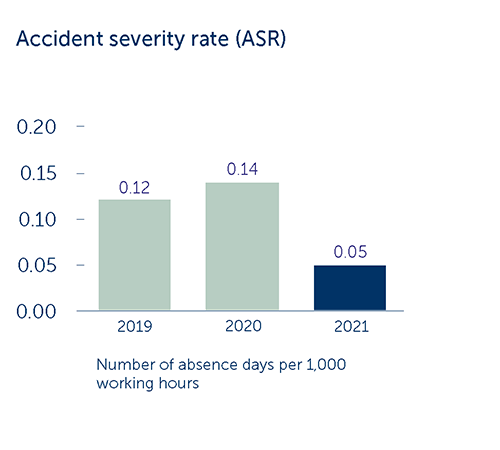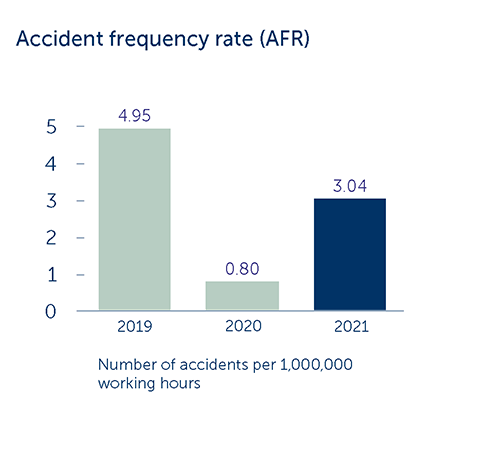 Safety during the pandemic
We continued to be affected by the COVID-19 pandemic in 2021. Our primary focus during the year was to keep our employees safe and healthy. Suominen monitored the COVID-19 situation closely and implemented precautions to protect our employees and to ensure a safe working environment on our sites.
Our safety work
Suominen's safety work is based on preventive work, and we have implemented Life Saving Rules and a Behavior Based Safety program covering employees working both at Suominen's manufacturing sites and offices.
The Behavior Based Safety program kept rolling for the eighth year in a row in 2021. The program emphasizes the individual's own responsibility in safety and focuses on influencing the attitude and motivation of individuals. The program includes safety walks, in which an employee walks through the premises, identifying both safe and unsafe behaviors and conditions, and then engages in an open discussion with other employees. However, as a precautionary measure, safety walks were suspended also in 2021 to ensure social distancing in our sites due to the COVID-19 pandemic. The walks will start now again as the COVID-19 situation is getting easier.
Suominen develops safety at the workplace according to the principle of continuous improvement and constantly shares the best practices at individual plants to benefit the entire plant network. In improving safety, Suominen places particular emphasis on influencing attitudes, behavior, and operating models, and on building a culture of work safety. In 2021, we had a special focus on safety-related topics in internal communication.