Expanding our offering of sustainable nonwovens
Global environmental concerns – such as diminishing resources, climate change and marine plastic pollution – are creating new market expectations and demand for sustainable products, including nonwovens. To meet this market demand, Suominen is continuously developing innovative products that combine sustainability, quality and performance.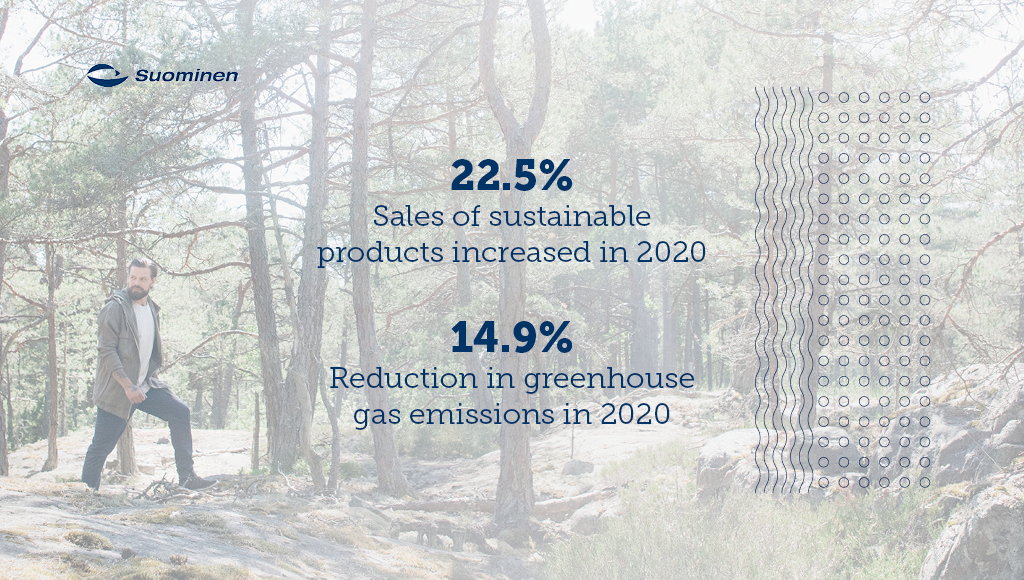 In 2020 sales of our sustainable products increased 22.5% and we launched nine sustainable products. 
Awareness of environmental concerns among consumers has been rising for some time already. Today, many consumers consider sustainability important to them and it has changed consumption behavior. The change has become in favor of brands that value and practice sustainability.
Global challenges and changing consumer behavior also drive us at Suominen to constantly develop new and innovative sustainable solutions that have a smaller environmental impact. Our current Sustainable Product Portfolio consists of products made of renewable, recycled, and/or plastic-free raw materials as well as compostable and totally dispersible nonwovens. This portfolio offers products of uncompromised quality for every category and end-use.
We are taking into consideration the entire supply chain when aiming to decrease the environmental impacts of our products. This is done by using raw materials with lower environmental impacts and by optimizing our own processes and transportation distances.
"As part of this work, we calculate the carbon footprint of our nonwovens – including not only the emissions from own production processes but also the impacts caused by the production of the raw materials and their logistics," says Noora Rantanen, Sustainability and Marketing Manager.
Unique capabilities and technology enable expansion of our sustainable offering
Our target is to increase sales of sustainable products by 50% by 2025, compared to the base year 2019, and to launch at least ten sustainable products per year. We have two strong capabilities that – together with our advanced production technologies – support us in reaching our target.
Firstly, Suominen is a pioneer in sustainable nonwovens. We introduced our sustainable BIOLACE® product family back in 2007 and invented the groundbreaking wetlaid spunlace category for flushable dispersible nonwovens called HYDRASPUN® with first product versions dating back to 1997.
"Our customer insight together with our market & technology leadership provides the basis for creating sustainable products and product families," says Lynda Kelly, SVP, Americas & Business Development.
Secondly, we have a strong and very professional research and development organization with excellent know-how in sustainable fibers and we are constantly researching new potential fibers in our New Fiber Center. Our research and development work focuses specifically on sustainability and customization of our products. In addition, our pilot lines situated at our Nakkila and Windsor Locks production plants support our R&D efforts as well as accelerate speed to market.
These two capabilities are supported by the production technologies of our production units – all eight of our plants are capable of using sustainable raw materials.
"Our fiber based technology platform, strong research and development team and our continuous work in new and innovative fibers means we are able to offer tailor-made solutions for customers' different sustainability needs," says Lynda Kelly, SVP, Americas & Business Development.
In 2020 sales of our sustainable products increased 22.5% and we launched nine sustainable products.